Long time no blog. I've had soooo much going on the last year. I though I posted more then I did. Anyway!!! To the good stuff!
I did my BIG CHOP on July 18th. I had to look at a calender thought I did it in August for some reason. Doesn't feel like it's been 5 months. My hair is growing fast. most likely because I really dont do a lot with it. I wash it every morning. Well technically co-wash it and once in a while I'll use shampoo if needed. Then I put in a leave in, a moisturizer, and sometimes oil and go. Since winter is here I really want to stop doing the wash and go. Still it's so easy. On top of that it is cold one day here and hot the next so that is not helping. I'm heading to Cali next month for my b-day so I'll get either twist or braids done.
Speaking of Cali!!! I will actually be moving there next summer. Hopefully!! I had a family emergency which required me to drain my savings. Don't mind doing that for my family, but I do hope I can move by next summer. I'm ready to go now. The economy is so bad there though that it does scare me. If it's God's will I'm sure I'll be there
either way.


Anyway enough about that stuff
it's HAUL TIME!
I've fallen in LOVE with
Bath & Body Works
again. I used to love them years ago, but fell off the wagon the last few years. Now
I'm back on track and cant seem to stop buying there stuff.
Next week they are having a sale on there classics. I have to stock up on my
White Tea & Ginger.
Now to sum up my last few B&BW Trips:
Sensual Amber
: Travel Size Fragrance Mist
Warm Vanilla Sugar
: Fragrance Mist, Body Cream
Moonlight Path
: Body Cream
Victoria's Secret PINK
: Body Lotion & Travel Size Body Mist (Sweet & Flirty, Soft & Dreamy)
Secret Wonderland
: Shower Gel, Body Lotion, Body Cream
Midnight Pomegranate
: Shower Gel, Body Lotion, Body Cream
Butterfly Flower
: Shower Gel, Body Lotion
Next is just a small Drugstore Haul.
I went to get a foundation and a facial brush cleaner but couldn't find a brush.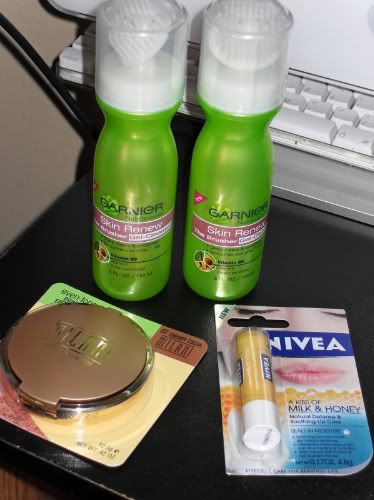 Garnier Nutritioniste: Skin Renew The Brusher
Milani: Even-Tone Powder Foundation
Nivea: A Kiss Of Milk & Honey
This will be my first time using foundation. I hope when I do full coverage the color works for me. I tested it out on a scar I have and it looked decent. I only purchase the Garnier because it was on sale and had a brush, so hopefully that works out too. Being that it is Christmas time I will definitely be coming back with more Haul pictures. I ordered a 120 palette last week. Yesterday I ordered 3 NYX lipglosses, and today I ordered 4 Urban Decay mascaras and a powder brush. So until next time Peace, Love, & Blessings