So I ended up washing my hair 3 times last week. I washed on Saturday because my hair just felt gross. I washed on Monday as usual. Finally tried my GVP Joico K-Pak Reconstructing Conditioner after I washed my hair. I left that on a few minutes longer then intended. Like 8 or 9 instead of the 5. Then I used my Neutrogena Triple Moisture Daily Deep Conditioner. After all of that was done I applied my leave ins as usual. When my hair dried it was a bit crunchy on the top. I freaked of course. Started praying that I wouldn't have to go back and deep condition my hair. I was going to use my HB Carrot Creme to moisturize, but thought it would be best not to if my hair was going through protein overload. Which means my Profectiv Growth Lotion was out of the question to. So I ended up using my HB Olive Creme. Can you said life saver. I really love that stuff. I also applied my Castor oil to my scalp after I moisturized and sealed. So far I'm loving the castor oil. My scalp/hair sucks that stuff up. I planned to buy some Jamaican Black Castor oil but that was put on hold when I found out I'd be paying almost $20(shipping included) for it. So I'll just ride out on this little Walgreens bottle for a while.
Also last night when I was doing my hair I noticed something interesting. The hair near my nape seems to be a different texture then everywhere else. Like the hair near my forehead is like a 4a the crown is like a 4b. The nape hair is probably a 3c I guess.
Last night I decided to put my flexi rods to use. I have the 9/16" blue ones.
Here are the results: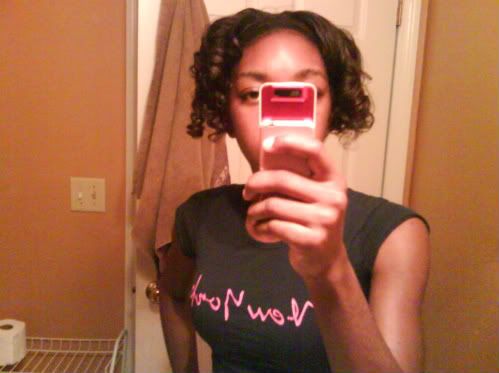 I did it on dry hair by the way. First off let me say that I didn't have enough rods to do the back. I only purchased one pack of flexi rods. So I didn't have enough to do the back and just ended up bantu knoting it. When I took it down of course the left side was in it's own world. No matter how much I tried to fluff it out it just stayed lifeless. In the end I twisted the back up and called it a day. In my attempt to fluff it out and make it blend I combed out the right side of my hair. Which is why the curls aren't as defined on that side. All in all it came out pretty decent.
That is pretty much it for now. Peace & Love
OH YEAH! BIG BIG BIG NEWS! I got myself a webcam. I recorded the video and everything to put up on YT!!!!! BUT! Of course there is always one of those~ I, for some reason thought it had a mic built in. Well it doesn't so I have a video with no sound. So I'm just going to either A): Buy a cheap mic B): Buy another cheap webcam that has a mic. I haven't decided as of yet. Until then videos will have to wait. They are coming though :)