I just finished washing my hair not to long ago. I used the Silk Elements MegaSilk Olive Shampoo instead of my usual Creme of Nature Detangling Conditioning shampoo. I'm going to be honest I was not feeling that shampoo at all. I'm really feeling the urge to go right back to Sally's and return that ish. I felt like it wasn't cleaning my hair/scalp at all. It just seemed to be there on my head. Despite all this I will be giving it one more try next week. There were quite a few things that could have caused this situation. I did co-wash my hair Saturday instead of Thursday. So there was possibly nothing to clean. Yesterday I will admit I was heavy handed on the moisturizing. Maybe because of that it was too much for the shampoo. I really don't know. So instead of putting it away and never using it again I will give it one more try next week. If it doesn't work out I.....I just hope it does. -_-
Now that, that is over with I want to talk about staples. These are the items that have never let me down and I will always be loyal to.
#1
Neutrogena Triple Moisture Daily Deep Conditioner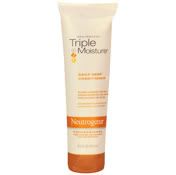 This stuff is so amazing. I have never been so amazed by any hair product. It has great slip. On top of that it really does leave your hair soft. There is no doubt this stuff moisturizes my hair. I recommend this to everyone. Especially if you have dry or really coarse hair. You will love this stuff.
#2
Coconut Oil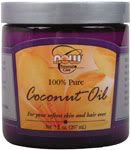 The reason why I love this oil so much is because it's so light. I'm used to using heavier oils on my hair. That's how it's always been. Until I found this. I use it all the time. I pre-poo with this as well as seal my hair with it. I plan on do even more with it in the future. If you don't care for heavy oils I recommend this for you. I do actually use the brand that's pictured. I personally will not be using this brand again. Not because it's bad but I want to try Extra Virgin Coconut Oil next time.
#3
Shower Comb

This has to be the greatest comb in the world in my opinion. I use this so much it's ridiculous. It has gotten to the point that I don't even use my regular big tooth comb anymore. I only use this. Detangling is a breeze with this comb. I still have a little breakage with my regular big tooth comb. When I use this comb what little I did have is usually cut in half if I use this instead. The only reason you would need any other comb is to make your parts straight. That's it.
#4
Elasta QP Mango Butter
This is so amazing. The smell alone will make you fall in love. Not only that it's a great moisturizer. It took me a while to find this, but it was well worth the look. I must at admit when you first see this it seems a little steep price wise. The thing about this is a little does go a long way. There is no need to use a ton of this. Even when I get heavy handed with this it doesn't seem to weight my hair down. Then again I have thick hair. If you try this you will not be disappointed.
That's it for today. I'm trying to get my wishlist together. It seems to get altered everyday.
Oh yeah I forgot last night I did use the Carrot Oil Root Moisturizer. Even though it has mineral oil in it I decided to use it since I was going to wash my hair today.I only used it on my roots. It didn't really do too much but I did only use it once. I don't plan on using it again to be honest. Well that is it. Peace & Love~