So it's been about a week since I ttyped up a blog. I kept meaning to but for some reason never I never got to it. I did try the Burt Bees' Avocado Butter Pre-Shampoo Hair Treatment last week. It was pretty good. I didn't keep it on as long as I would have liked to since I got home late. I think I had it on for about 15min I think. Next time I'll try to keep it on for at least an hour. I was thinking about wearing it to work, but I'm not sure if I want to rock a ponytail tomorrow. Tomorrow is my clarifying day. I know I said I'd clarify/chelate on the first Monday of every month. Technically we will be like a day away from it. Then again since I'll be working late I might not even wash my hair tomorrow night. I already know I won't feel like getting up first thing in the morning to wash my hair.
So yesterday I did a bantu knot out. It looked so pretty I decided to take a picture of it.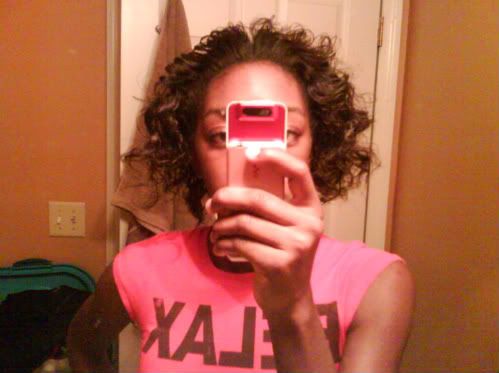 I ended up wearing it again today. I'll probably wear it tomorrow too.
I also picked up a few items Friday.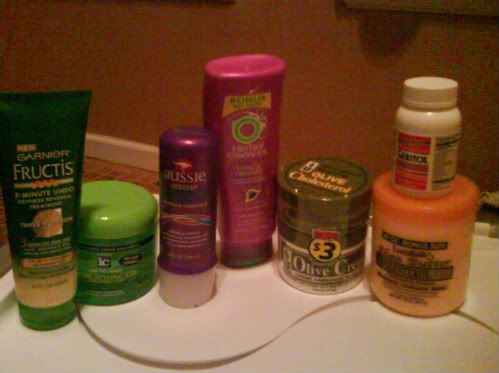 Garnier Fructis Triple Nutrition 3-Minute Undo Dryness Reversal Treatment
Fantasia IC Olive Styling Gel
Aussie Deeeeep 3 Minute Miracle Moisture Treatment
Herbal Essences Totally Twisted Curls & Waves Conditioner
Hollywood Beauty Olive Creme
Geritol Complete
Lustrasilk Shea Butter Cholesterol
I actually mentioned getting the Herbal Essence a while back. I just thought it deserved a picture. The white thing that my stuff is sitting on is a new container. I got one when I first started my healthy journey, but some of my conditioners were too tall for it to close. I haven't even gotten around to putting any of my stuff in it yet. The Geritol will be replacing my Andre Lessman supplement. I accidentally ruined my last few supplements I had left. I was thinking about getting the One A Day gummie vitamins but I settled on the Geritol. I heard quite a few good things about it.
I have heard a lot of good things about the Aussie deep conditioner so I had to pick that up. I hope it works good for me too. I've been wanting to try some of the Garnier Fructis Triple Moisture products since I first heard about it. After I purchased it I saw that it had mineral oil in it. I'm really bad about reading the labels. So I'll probably shampoo after I use that.
Oh yeah I forgot to mention that I did not use my Silk Elements shampoo again last week. I just couldn't bring myself to do it. I just ended up using my Cream of Nature shampoo.
Well that is pretty much it for now. Peace & Love~